Digital entertainment has lately become more popular, including streaming content and mobile gaming. Arcade game machines still have a specific market because they offer a physical experience that cannot be matched remotely. Arcade game machines are coin-operated game machines. Players must enter coins or tokens into these machines in order to play. Early arcade games were simple machines, but as technology advanced, electronic machines gained popularity. Over the years, arcade game machines have developed, and many of them now include cutting-edge technology like 3D graphics and motion sensors. These games provide children with wonderful chances to engage with other kids, which can enhance their social skills and creativity. In this article, we explore children's motorcycle game machines.
BLEE is a professional manufacturer dedicated to arcade parts and game machines. The children's motorcycle game machine is one of our best machines.
Specifications
Our children's motorcycle game machine is composed of a mix of metals and acrylic, giving it strength and stability. The machine is 7801150900mm in size and uses 180W of power to run.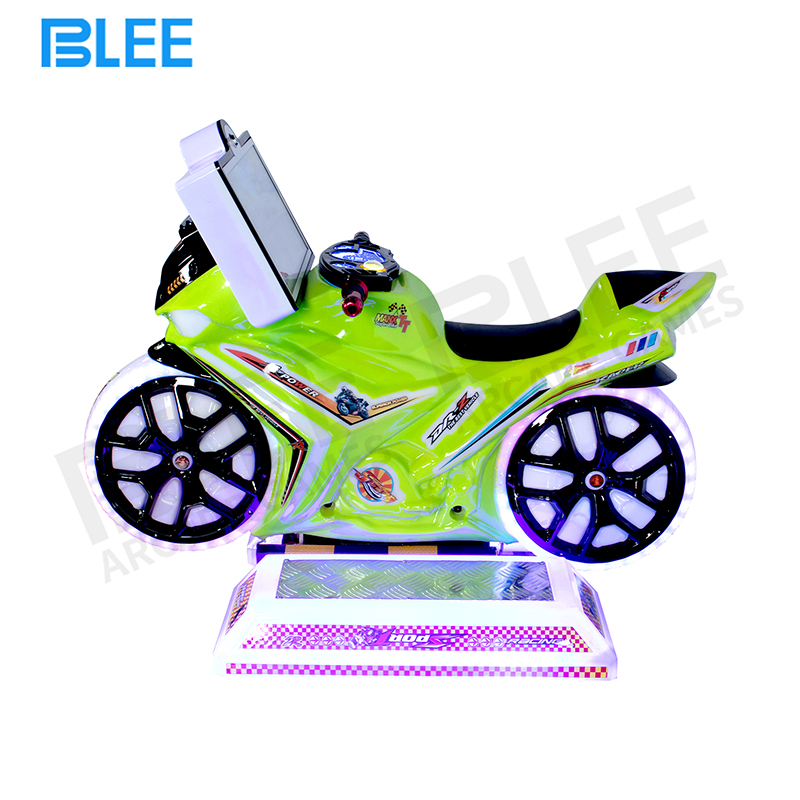 A Children's Motorcycle Gaming Machine is an arcade game machine that is particularly developed for children. It stimulates the motorcycle riding experience and is simple and small than other motorcycle simulation games. The gaming machine resembles a motorbike and has handlebars that the player uses to steer the game. It is intended to be basic and simple enough for kids to comprehend. The motorcycle is steered left or right by the user on a virtual track or road in order to avoid obstacles and earn points. In order to score extra points, the player may have to overcome obstacles like leaps and stunts.
How to Play
Ride the machine and insert coins to begin the game. The animation started playing on the front screen, and the machine swayed to match the visual. Control the motorcycle's direction and speed with the handlebars. As the players race along the virtual track or road, they must avoid hazards to gain points. When a player reaches the finish line or runs out of time, the game is over. After the score is shown on the screen, the player can keep playing or collect their prizes.
These game machines are used at a variety of amusement parks, shopping malls, and family entertainment centers. These games offer children active and unique gameplay and also improve their hand-eye coordination and fine motor abilities. It's a wonderful addition to amusement parks.
The Bottom line
Guangzhou Baoli Animation Technology Co., Ltd. focuses on manufacturing arcade game accessories and we manufacture and sell all kinds of high-quality arcade game accessories. We are a brand business operating for many years, with a good reputation and great customer groups. If you are interested in the arcade game and you need to buy arcade game accessories, please contact us.